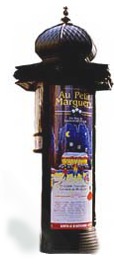 The table below lists the New Customer Pricing for all of our reports and workshops. (Past Summit customers always pay less. Contact us for details.) To order one or more reports, simply select the reports desired and email, fax (301-330-4171), or phone us (301-670-0980) your complete mailing address, credit card number and expiration date. The reports will be sent at once. Contact us for specific pricing on our custom consulting and usability testing services. We are happy to "bundle" reports, workshops (appearing in blue below) and consulting services for even better pricing.
| | | | |
| --- | --- | --- | --- |
| Report/Workshop Title | Year Published | PDF or CD-ROM Price | Multiple Report Discount |
| Kiosks and Interactive Technology | 2010 | $2,195 | -$200 |
| Kiosk Trends and Secrets to Success Workshop | 2010 | $ 995** | -$200 |
| Kiosk Industry Directory | 2010 | $ 795 | -$100 |
| Kiosks and Interactive Technology — Global Statistics & Trends | 2010 | $1,595 | -$100 |
| Interactive Kiosks: Best Practices | 2008 | $ 695 | -$100 |

All prices include shipping and handling.
* When purchased with the companion Industry Sector report.
**Only available on CD-ROM.



Our Workshops
The Kiosk Industry: Facts, Trends and Secrets to Success workshop is the presentation we give most often -- for private clients and at industry conferences. Constantly updated, it provides the latest statistics plus an honest and unbiased discussion of industry trends and an overview of what's hot and what's not in the world of kiosks. It includes dozens of jpegs of kiosks, interfaces, locations and other factors that can make or break a kiosk implementation. Attendees are encouraged to speak up as often as they like, asking questions that are pertinent at that moment. We believe that waiting until the end of a presentation is counter-productive; we truly want the interruptions! This presentation usually lasts three hours but we will continue if there is still interest or if we have not yet covered all the areas of interest. This workshop is $995 but only $795 when any report is also purchased. Delivered on CD-ROM, it is normally conducted remotely at a mutually-agreeable time.
In addition, we offer in-depth workshops on all of our Industry Sector reports. These PowerPoint presentations run roughly two hours and are highly interactive. Here too, we encourage active audience participation and interruptions. The presentation covers nearly every case study included in these Sector reports, along with many other examples. The workshops are normally $795 each, but only $595 when purchased with the companion Sector report. Here's how it works. You purchase the report and workshop. We burn them on a CD-ROM and mail it to you. We then set up a mutually-agreeable time to hold the workshop. You load the presentation on your PC and call us at the appointed time; we conduct the workshop over the phone. This method of providing the latest industry trends has been very popular - and cost-effective.
Please contact us if you have any questions. To order, contact Francie Mendelsohn, President: . Phone: (US) 301-670-0980